Sorry no logs available at the moment.
Local Barn Dried Logs
Moisture Content Below 20%
Prices From £70 Including Delivery
Logs For Sale East Devon
Logs For Sale East Devon – Well seasoned barn dried logs with moisture content of less than 20% perfect for open fires and wood burning stoves.
Firewood logs are cut to approximately 10 inches /25 cm in length.
We will unload your logs as close to your storage point as we can from our vehicle. If you choose, we can wheelbarrow and stack your wood to your storage location for a small fee.
ABOUT OUR LOGS
We Sell Enviromentally Aware Firewood Logs.
All of our wood is sourced as part of our tree surgery work, this means the wood is locally sourced and travels as few miles as possible.
WE DO NOT buy in wood from other parts of the country.
Our wood is age seasoned in our barn, often for as long as 2 years, depending on the wood species.
WE DO NOT kiln dry our logs. The kiln drying process uses large volumes of wood to dry the saleable logs, which obviously is environmentally poor, burning wood just to dry wood!
The kiln drying process is normally used just to speed up the production and sale of logs. Wood is in the kiln for approximately 7 days depending on species and moistutre content, meaning timber can be bought in and within 14 days or so can be up for sale.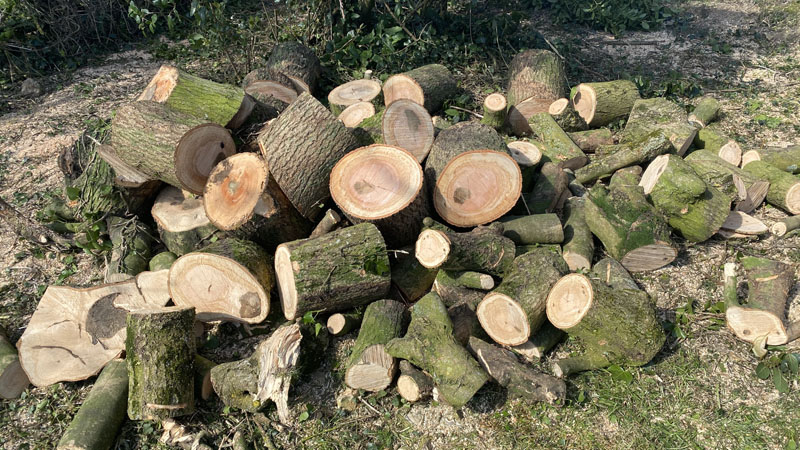 Builder Bulk Sacks
Approx 0.6 cubic m
£70 including delivery.
Level Truck Load
Approx (1 cubic m)
£95 including delivery.
Heaped Truck Load
Approx (1.5 cubic m)
£140 including delivery.
GET THE BEST FROM YOUR FIREWOOD
To get the very best from your logs it is vital to store them in the best possible way.
By doing this, your fire will light easier, burn hotter, keep your chimney cleaner and be more environmentally friendly. It will also SAVE YOU MONEY !
Your logs should be kept somewhere dry and airy before use, certainly not somewhere that rain could fall on them.
In an ideal world, and this will really make a difference, try to store your log supply for two weeks inside your house before use, the warmth and low humidity will really make a big difference to the performance to your fire or wood burning stove.
PLEASE BE AWARE
No matter how dry your logs are when delivered, if they are stored in a damp environment they will absorb moisture and reduce the efficientcy of your fire.
Devon Arborists are based in East Devon ideally placed for the following towns, Sidmouth, Branscombe, Beer, Seaton, Lyme Regis, Axminster, Stockland, Membury, Honiton, Ottery St Mary, Feniton, Cullompton, West Hill, Budleigh Salterton, Exmouth, Lympstone, Topsham, Exeter, Dawlish, Teignmouth, Woodbury, Colyton, Shute, Aylesbeare, Newton Poppleford, Otterton, Broadclyst, Whimple.