Stump Grinding East Devon & Exeter
Do you have a tree stump that needs stump grinding in East Devon or Exeter? We can certainly help you.
No matter what size of tree stump or location we will be able to give you the best advice to deal with your stump.
We use the latest stump grinders to efficiently remove stumps of any size. Our narrow access stump grinders can fit through household gates.
Our professional, polite and friendly teams will undertake your stump grinding as quickly as possible, working to your brief to give you the outcome that you desire, creating minimum mess and leaving the site as clean as possible.
From our East Devon base we are ideally placed to cover Devon, South Somerset and West Dorset.
Devon Arborists – Stump Grinding East Devon & Exeter – a local family business who pride ourselves on the quality of our work and our customer service.
FREE NO OBLIGATION QUOTES – CALL US  07485 411618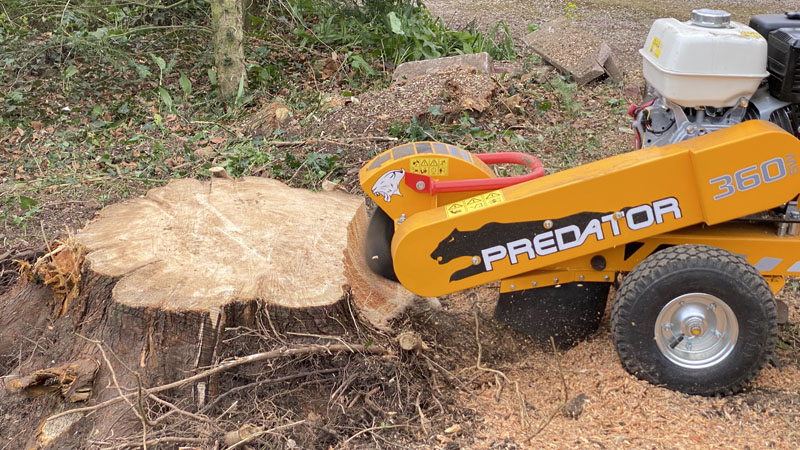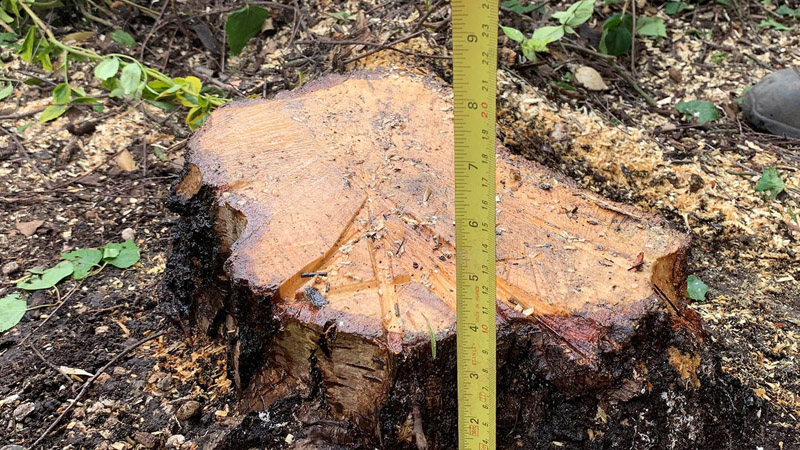 What We Do
We use machines called Stump Grinders that grind the tree stump down to chippings. These are either left in the hole that the stump grinding created or removed depending on your circumstance. We leave the area ready for the next stage of work, whether grassing or replanting the area or perhaps fencing.
Why Should I Remove A Stump?
After tree removal leaving a stump has many disadvantages, firstly it is unsightly and also a trip hazzard. Leaving the stump in place also reduces your options of how to use the area in the future.
From the view point of nearby tree and shrub health, decaying stumps can be homes to various fungi types, such as Honey Fungus that can kill otherwise healthy tree and shrubs.
How Much Does Stump Grinding Cost?
The cost of stump grinding varies on a number of factors, including the size and number of stumps to be removed, the location of the stumps and the access to them.
When the stump grinding is straightforward we are often able to give you an indication of costs from a phone call and seeing a few photographs. If the stump grinding is more complex we will give you a fixed quote after a site visit.
What We Need To Know
Number of stumps for grinding.
Stump diameter at ground at ground level.
Height of stump above ground level.
What the area will be used for after removal. The waste chippings may need to be removed.
Is the access route to the stump easy? Is the access route narrow, or are there obstructions such as steps?
You can send us photos by either text, WhatsApp or email, all details are on our Contact page.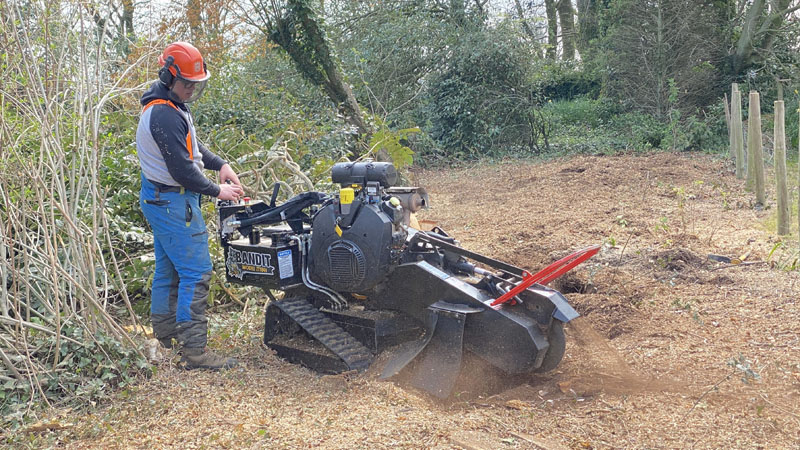 Devon Arborists tree surgeons are based in East Devon so are ideally placed for the following towns, Sidmouth, Branscombe, Beer, Seaton, Lyme Regis, Axminster, Stockland, Membury, Honiton, Ottery St Mary, Feniton, Cullompton, West Hill, Budleigh Salterton, Exmouth, Lympstone, Topsham, Exeter, Dawlish, Teignmouth, Woodbury, Colyton, Shute, Aylesbeare, Newton Poppleford, Otterton, Broadclyst, Whimple.